Data & Statistics on Autism Spectrum Disorder
Identified Prevalence of Autism Spectrum Disorder
ADDM Network 2000-2016 Combining Data from All Sites
In the 2019/2020 Katy ISD school year one in 32 students were eligible for special education and related services with an autism educational label.


Project Lifesaver International
In 2011 KAS & FBCSO together implemented Project Lifesaver. The mission of Project Lifesaver is to provide timely response to save lives & reduce potential injury for adults & children who may wander due to a cognitive condition (Alzheimer's, dementia, autism, Down Syndrome). The Senior Program Director with Fort Bend County Sheriff's Office would like to revive the program & would like to know if there's interest among the autism community in the county, please send an email message to Cynthia Reece at kgreeceman@aol.com

to indicate your interest.
Come Find Us:
Find us on
Facebook
by typing Katy Autism Support Discussion Group in your Facebook search bar or click on the link below:
https://www.facebook.com/groups/katyautismsupport

Currently in 2021, due to the COVID-19 Pandemic, Katy Autism Support is not meeting in person. We hold parent support and resource meetings via Zoom. Please contact Cynthia Reece through email at kgreeceman@aol.com to request topic, meeting flyer and Zoom registration link.
Beginning with the October 2016 in-person support meetings will now occur quarterly. 1st Quarter meeting is in January on the 3rd Tuesday of the month; 2nd Quarter meeting is in April on the 3rd Tuesday of the month; 3rd Quarter meeting is in August on the 3rd Tuesday of the month (due to the summer recess); and 4th Quarter meeting is in October on the 3rd Tuesday of the month. Meeting time and location remain the same; 7:00 - 9:00 pm, at St. Peter's United Methodist Church, 20775 Kingsland Blvd., Asbury Hall, Katy, Texas 77450.
Please contact
Cynthia Reece
at
kgreeceman@aol.com
for other questions and requests.
CareStarter Connections App Launched 2015 in Houston, Texas:

CareStarter Connections App is a complete resource guide for families of kids with special needs, and best of all, it's free! The goal is to connect caregivers with providers, organizations and other resources in their community to help them along their path of care. The Connections App, powered by CareStarter Technologies®, facilitates the delivery of comprehensive, individualized, coordinated care at a time when caregivers need it most. To learn more, click on this link: http://carestarter.co/
Caregiver Safety Toolkit:


In 2012, the National Autism Association found that from 2009 to 2011, accidental drowning accounted for 91% total U.S. deaths reported in children with autism subsequent to wandering, and that 23% of total wandering-related deaths occurred while the child was in the care of someone other than a parent.
You can download a caregivers toolkit from the National Autism Association Safety Initiative's AWAARE website
http://awaare.org/
,
download and begin using your Big Red Safety Toolkit today. Enclosed, you will find:
•Caregiver Checklist
•Family Wandering Emergency Plan (FWEP)
•First-responder profile form. Please fill out and provide a copy to your local law enforcement agencies.
•Swimming Lessons Tool
•Root-cause Scenario & Strategies Tool
•Stop Sign Prompts
•Social Stories
•Caregiver Log
•Sample IEP Letter. (Never allow restraint/seclusion practices into any IEP as this increases associated risks)
•How To Get Tracking Technology In Your Town
•General Awareness Letter: share with schools, homeowner's association, law enforcement agencies,
physicians, etc.
•Five Affordable Safety Tools
•Caregiver Resources One-sheeter



A video for first responders by National Autism Association: //www.youtube.com/watch?v=auJvlpWhb5E





IfiNeedHelp PATCHES, SHOE TAGS, ID CARDS, WINDOW CLINGS, BUMPER STICKERS, DOG TAGS, PINS, CLIPS & MORE!! HELP FOR LOVED ONES WHO MAY WANDER.
Put patches, pins, clips onto your clothes, backpack, or device! Sew on yourself or take to the cleaners or Grandma's and have it done for you. Put your new Shoe tag on your favorite shoe with tieless laces. Wear your Dog Tag. Have your iD card in your wallet. Find out more about these products at https://ifineedhelp.org/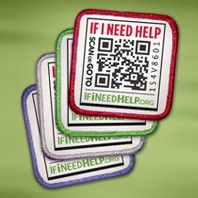 Thank you to the National Autism Association for the use of its graphic artwork "I Love Someone With Autism To Pieces" JPEG. Katy Autism Support is grateful to NAA for all the hard work they do to help families with a loved one on the autism spectrum.